A Dynamic Duo
June 20, 2018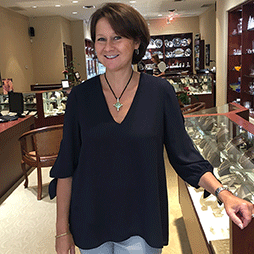 For over 40 years, Jewelry Art Fine Jewelry has been serving the Cleveland and Akron/Canton areas. With a love of individual design and impeccable craftsmanship, this mother/daughter owned store actively seeks alliances with designers who share their core values—quality, unique design and unprecedented quality craftsmanship.
COUTURE: Number of years in business?
Barbara Johnson: 40
C: How did you get into jewelry retail?
BJ: I got into the business to help my mother, but then discovered such a passion for the gems and jewelry and I just love working with people!
C: What's your favorite part of your day?
BJ: Early morning! I Love it!
C: Favorite season?
BJ: Summer
C: What's your mantra for dealing with difficult customers?
BJ: A deep breath, a quick prayer, a smile and a lot of patience.
C: I won't leave without.
BJ: A positive attitude
C: If you could own another type of store what would it be?
BJ: I really could not imagine any other industry…
C: Favorite vacation spot?
BJ: The Beach!! Even though I just LOVE to vacation anywhere, especially discovering new places.
C: Coffee or Tea?
BJ: Coffee
C: What's your exercise routine?
BJ: Walks- lots of walks with my wire hair fox terrier (and husband)
C: How do you motivate your staff?
BJ: Mimosas
C: What's on your desk?
BJ: Lots of custom design projects!