Bibi van der Velden
January 16, 2018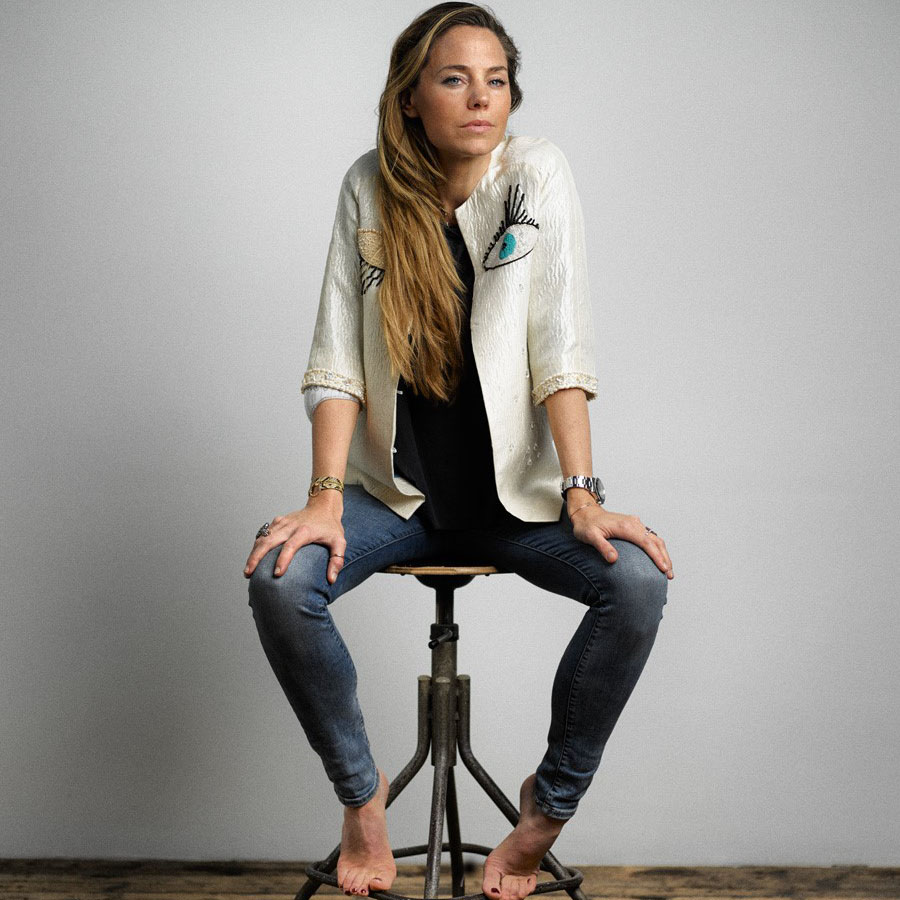 Bibi van der Velden is a sculptor by profession who was born in New York. She describes her jewelry as miniature sculptures. Her work, inspired by nature, is a continuous search for new materials to discover the beauty of imperfection.
COUTURE: Number of years in business?
Bibi van der Velden: I've officially been in the business since 2005 but jewellery and especially sculpting, which is my background, have been a part of my life for a longer time than that.
C: What was your first job, either in or outside of the jewelry industry?
BVDV: As l always used to cook at home for my brothers and mother l started cooking for parties and dinners at other people's since l was 15. From when l was 17 l had a one man show catering company. My specialty was Asian Fusion. In those days it was very difficult to buy all the ingredients. I would send my mother on wild goose chases with very long complicated shopping lists.
C: What led you to jewelry design?
BVDV: I have always been collector of stones and shells. A collector in fact of everything and a documenter. A desire to incorporate these collections and ideas into something resulted in jewellery making. On top of that l find it very complimentary to sculpting, for me its just a matter of dimensions. I always knew l wanted to be a sculptor, jewellery was an unexpected turn that l went with and still find incredibly inspiring and satisfying.
C: If you weren't a jewelry designer, what would your occupation be?
BVDV: My occupation would be a sculptor. I still sculpt and am working on a next exhibition but it obviously doesn't get as much attention as it should.
C: Favorite pastime?
BVDV: Get outdoors with my family. Whether it be surfing, skiing, camping, horse riding, hiking, discovering new places and countries. Although we live in Amsterdam, we spend the weekends in the country and are trying to have our small children grow up with the waves in summer and the mountains in the winter.
C: If a theme song played every time you walked into a room, what would it be?
BVDV: 'Go your own way' by Fleetwood Mac – l'm a total Fleetwood Mac lover and have always navigated on my own compass in life.
C: What gets your creative juices flowing?
BVDV: Anything and everything, usually tiny things, busy cities, empty nature. But one thing without fail having time to draw and make things with my hands. Probably time in general. We live in a world where nobody seems to have time for anything, to breath, to reflect, etc. This is my mission for the coming years, to create time and space for myself and family.
C: At what time of day are you most creative?
BVDV: l am a vampire. Always at night.
C: Coffee or Tea?
BVDV: l don't drink coffee. I have a roofgarden filled with Verveine plants. Makes the best tea. Of which l drinks liters a day, usually in obscenely big cups…
C: Savory or Sweet?
BVDV: Alas both. I've cut the chemical, teeth killing sweets from my life but have a chocolate addiction. Savoury; chocolate with sea salt 😉
C: Favorite non-jewelry accessory
BVDV: Shoes and bags. Although nothing is more powerful than expressing yourself through jewellery.
C: I won't leave home without…
BVDV: Not a very original answer but my phone and my fathers Rolex which l never take off.
C: Favorite holiday and why?
BVDV: Last year we took our two children through New Zealand and Australia for three months in a camper. Can't explain what a life changing trip this was. Not to be confused with a holiday of lying on the beach. Camping is hard work.
C: Instagram or Facebook?
BVDV: Instagram without a doubt.
C: Tattoos?
BVDV: A few subtle ones. Tattoo's are also a way of marking milestones in your life, just like jewellery.