Finding Inspiration in nature and stillness!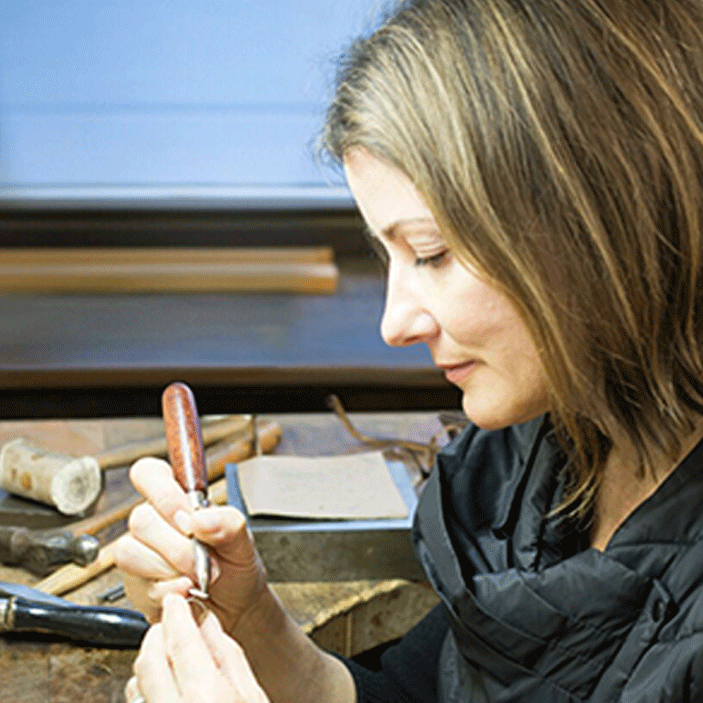 Toronto-based designer, Anne Sportun, finds inspiration for her textural, organic and exceptionally crafted collection in the solidarity of the woods. A lover of the great outdoors, Anne also enjoys gardening and golfing, and she embraces the family bonding inherent in spending time together in the wilderness.
C: What led you to jewelry design?
AS: As a teenager, I made stain glass, Tiffany-style lamps as a hobby, but lamps took too long to make! So instead, I started making and selling at wholesale a collection of stain glass jewelry!
C: If you weren't a jewelry designer, what would your occupation be?
AS: LPGA player
C: Favorite pastime?
AS: Gardening
C: If you could go back to your past self and give yourself one piece of advice, what would it be?
AS: Be less serious
C: If a theme song played every time you walked into a room, what would it be?
AS: Can't Stop the Feeling by Justin Timberlake
C: What gets your creative juices flowing?
AS: Being alone in the woods
C: At what time of day are you most creative?
AS: Morning
C: Coffee or Tea?
AS: Double espresso
C: Savory or Sweet?
AS: Yes
C: Favorite non-jewelry accessory
AS: Sneakers
C: I won't leave home without ______
AS: My "Cream In Your Coffee" MAC Lipstick
C: Favorite holiday and why?
AS: I enjoy canoe tripping and going to the Algonquin Park with my family, because of the remoteness, the quietness and the ultimate bond that's created by relying upon one another with the barest necessities.
C: Instagram or Facebook?
AS: Instagram
C: Favorite season?
AS: Spring
C: Tattoos?
AS: Nope
C: Least favorite food?
AS: Whipped mashed potatoes
C: Least favorite color?
AS: Fuchsia