Going Into Detail with WWAKE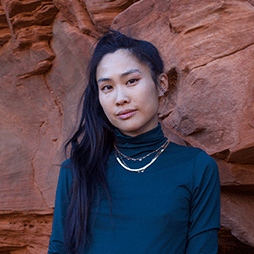 WWAKE designer Wing Yau studied sculpture and performance art before the wearable objects she was creating started to scale down in size until they contained the intimacy inherent in fine jewelry. With an affinity towards precision and meaningful detail, her pieces feature unexpected shapes and stone combinations, and provide a new perspective on heirloom jewelry.
COUTURE: What led you to jewelry design?
Wing Yau: After studying sculpture and performance art, I fell into jewelry design. I was dabbling with wearable objects, and they quickly became smaller and smaller and smaller—and now delicate, detailed, jewelry is what we're known for today. I like the process of finding what strikes people as special. It's really personal.
C: If you weren't a jewelry designer, what would your occupation be?
WY: I'd probably be making something else with my hands, like baking cookies or arranging flowers, something like that.
C: Favorite pastime?
WY: Cooking with people I love!
C: If you could go back to your past self and give yourself one piece of advice, what would it be?
WY: Trust your gut!
C: If a theme song played every time you walked into a room, what would it be?
WY: Best Life, by Cardi B.
C: What gets your creative juices flowing?
WY: Lying in the sun and having a moment to myself.
C: At what time of day are you most creative?
WY: 11pm – 4am
C: Coffee or Tea?
WY: Coffee
C: Savory or Sweet?
WY: Savory
C: Favorite non-jewelry accessory
WY: Sheila, my raffia snail-shaped purse.
C: I won't leave home without
WY: Chapstick.
C: Favorite holiday and why?
WY: Christmas!! I love the gingerbread house making, the endless food, the thoughtful gifting, the memories decorating the tree, the lights everywhere. I-love-Christmas.
C: Instagram or Facebook?
WY: Instagram.
C: Favorite season?
WY: Fall
C: Tattoos?
WY: Nope, my body is a temple.
C: Least favorite food?
WY: Sorry shortbread lovers, but it's shortbread.
C: Least favorite color?
WY: Purple