Greenwich St. Jewelers
June 15, 2016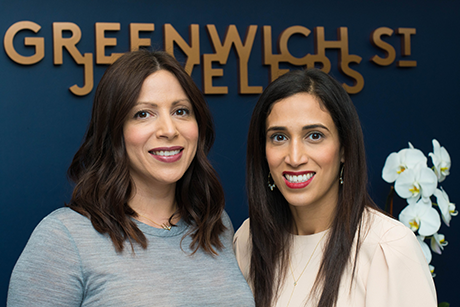 Owners of Greenwich St. Jewelers Jennifer Gandia and Christina Gandia Gambale share a mutual love for the jewelry industry and their family business, but they do have their differences! Jennifer re-energizes through meditation and yoga, while Christina enjoys her Crossfit lifestyle. Jennifer listens to Kanye West, while Christina prefers The Strokes. What do they agree on? Lots of coffee!
COUTURE: Number of years in business?
Jennifer Gandia and Christina Gandia Gambale: 40
C: Number of employees?
JG & CGG: 8
C: How did you get into jewelry and watch retail?
JG & CGG: We are second generation jewelry retailers and though we both had prior careers, eventually we decided to take over the family business.
C: What's the favorite part of your day?
JG: Getting still in prayer and meditation every morning.
CGG: When I get home to my girls.
C: What's the least favorite part of your day?
JG: The 4pm slump.
CGG: Waking up at 6am daily… I am really a night owl at heart.
C: If a theme song played every time you walk into a room, what would it be?
JG: "Stronger" by Kanye West
CGG: The Strokes "You only live once"
C: Instagram or Facebook?
JG & CGG: Instagram
C: Favorite season?
JG: Summer, I'm a beach baby
CGG: Summer… I hate coats
C: Favorite curse word?
JG: Fuck
CGG: It's hard to compete with Fuck
C: What's your mantra for dealing with a difficult client?
JG: Treat others the way you would want to be treated.
CGG: Listen, empathize and make it right
C: If you had a tattoo, what would it be and where?
JG: I've got 4 in various places
CGG: I have a flower tattoo on my lower back
C: I won't leave home without ______
JG: My phone
CGG: Phone, wallet, keys
C: If you could own another type of store, what would it be and where?
JG: Vintage lifestyle store in Brooklyn
CGG: Coffee shop… where I could relax all day
C: Favorite vacation spot?
JG: I prefer traveling to new places
CGG: Puerto Rico, through I'm happy anywhere with blue water and good weather
C: Least favorite food?
JG: Mushrooms
CGG: Salmon
C: Coffee or tea?
JG: Coffee and lots of it!
CGG: What she said!
C: What's your exercise routine?
JG: Running and yoga
CGG: Crossfit
C: What's the first piece of jewelry you fell in love with?
JG: An art nouveau silver and moonstone necklace
CGG: My mother's opal ring that she passed down to me
C: How do you motivate your staff?
JG: Communication and compensation
CGG: Constantly telling them they can do what they set out to do!
C: What's on your desk?
JG: A mess
CGG: Papers, coffee and gemstones