Marco Bicego
April 17, 2017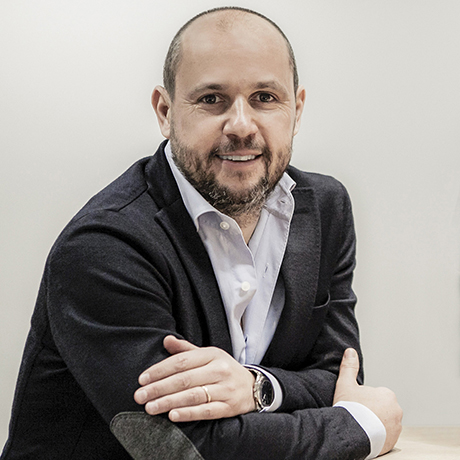 Like a true Italian, Marco Bicego's passions include fashion, food, and family. While Marco often travels, and is always on the search for inspiration, he makes family time a priority. One of his favorite activities includes cooking- the ideal way to bring friends and family together. How does he do it all? A secret stash of dark chocolate and good espresso!COUTURE: Number of years in business?
Marco Bicego: This will be our 17th year of business under the Marco Bicego brand.
C: What was your first job, either in or outside of the jewelry industry?
MB: My first job was actually doing odd jobs at my father's goldsmithing atelier.
C: What led you to jewelry design?
MB: I was born in Vicenza, the gold capitol of the world! My father was also a jewelry maker himself, so he was the one who taught me the goldsmithing technique and craft. I used to spend summers each year at my father's atelier where I would watch the craftsmen at work and try my hand at making objects of my own.
C: If you weren't a jewelry designer, what would your occupation be?
MB: Probably a chef. I absolutely love cooking, not only for the food and my love to create, but I love how cooking also brings family and friends together.
C: Favorite pastime?
MB: Watching classic films with my family and football (soccer)!
C: If a theme song played every time you walked into a room, what would it be?
MB: "Happy" by Pharrell Williams for obvious reasons!
C: What gets your creative juices flowing?
MB: Travel and architecture are the main inspirations for my jewelry. I like to take in my environment around me, wherever I may be that is making me feel inspired and I incorporate that vision and passion into my craftsmanship.
C: Coffee or Tea?
MB: Coffee. I can't get through the day without a good espresso!
C: Savory or Sweet?
MB: Savory, but I do like to carry around a secret stash of dark chocolate when I travel.
C: Favorite non-jewelry accessory
MB: Not exactly an accessory, but I guess I would have to say my jeans. I try to dress casual, yet elegant and I always make jeans a go-to since they're easy to dress up or down.
C: I won't leave home without __________
MB: My iPhone
C: Favorite holiday and why?
MB: Christmas of course! It's always such a beautiful and joyous time of year in Italy and it's when I finally start to slow down and take the time to be at home with my wife and children, celebrating and taking part in our treasured family traditions.
C: Instagram or Facebook?
MB: Instagram. I love being able to curate a feed for myself that includes beautiful photographs of nature, destinations to travel to and architecture/interior design.
C: Favorite season?
MB: This is a hard one because my work is so inspired by nature and how it transforms from season to season. That said, I do love summer and getting to eat outside with family and friends.
C: Least favorite color?
MB: Don't have one! Again, as my work is so inspired by my travel destinations and nature, I think I've used every color under the sun by now in my jewelry.