Be Bold with Marina B.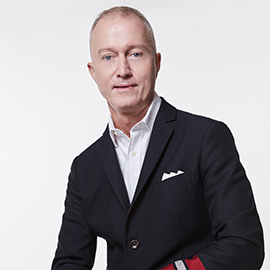 Marina B, the Italian jewelry house established in 1978 by Marina Bulgari, revolutionized women's relationships to jewelry by encouraging all women to be bold, different, and unique. Marina pioneered this mission when she broke away from the male dominated family business in order to start her jewelry line with a focus on spreading her message and helping all women find a voice.  Now, head designer, Guy Bedarida, continues to tell Marina's story through modern designs and fashion-forward statements.
COUTURE: Number of years in business?
Guy Bedarida: 35
C: What was your first job, either in or outside of the jewelry industry?
GB: At 17, I was an Assistant at Annina Nosei, an avant-garde art gallery in Soho, NYC. They discovered and were promoting Jean Michel Basquiat.
C: What led you to jewelry design?
GB: A passion for beauty and the ceremonial.
C: If you weren't a jewelry designer, what would your occupation be?
GB: An antique jewelry collector and dealer.
C: Favorite pastime?
GB: Travelling
C: If you could go back to your past self and give yourself one piece of advice, what would it be?
GB: Take the time to listen to cues from the people around me and be more patient.
C: If a theme song played every time you walked into a room, what would it be?
GB: Mozart Don Giovanni
C: What gets your creative juices flowing?
GB: Travelling
C: At what time of day are you most creative?
GB: Midday
C: Coffee or Tea?
GB: Tea (or even better, white wine)
C: Savory or Sweet?
GB: Savory
C: Favorite non-jewelry accessory
GB: Shoes
C: I won't leave home without ________
GB: Music
C: Favorite holiday and why?
GB: I like Bastille day in Paris. I love the tradition of Firemen balls in every arrondissement, and people dancing in the streets.
C: Instagram or Facebook?
GB: Both
C: Favorite season?
GB:  Summer because of the long days, the smells, and the flavors.
C: Favorite curse word?
GB: "Accidenti" (Italian)
C: Tattoos?
GB: No
C: Least favorite food?
GB: Brussels sprouts
C: Least favorite color?
GB: None. I love them all.