Miseno
July 18, 2017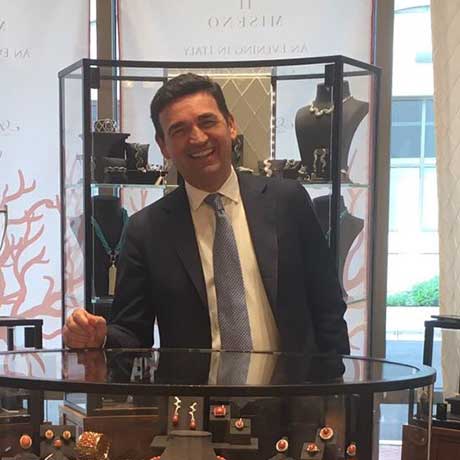 President and Creative Director of Miseno, Antonio Cardamuro, began his career in customer service. However, as his knowledge and experience within the jewelry industry expanded, he developed a strong passion to create. Inspired by the nature and beauty of his hometown, Miseno, Italy, Antonio was eager to begin his new path as a designer.COUTURE: Number of years in business?
Antonio Cardamuro: 4
C: What was your first job, either in or outside of the jewelry industry?
AC: My first job in the industry was at Bulgari in customer service.
C: What led you to jewelry design?
AC: A passion that grew from working with Buccellati
C: If you weren't a jewelry designer, what would your occupation be?
AC: Pizza maker, as a Neapolitan, I make a good pizza.
C: Favorite pastime?
AC: Soccer
C: If you could go back to your past self and give yourself one piece of advice, what would it be?
AC: Don't be afraid to follow your dreams.
C: If a theme song played every time you walked into a room, what would it be?
AC: "Sweet Child o' Mine" by Guns N' Roses
C: What gets your creative juices following?
AC: Nature and going back to my home town.
C: At what time of day are you most creative?
AC: Night time
C: Coffee or Tea?
AC: Coffee
C: Savory or Sweet?
AC: Savory
C: Favorite non-jewelry accessory?
AC: Sunglasses
C: I won't leave home without _______
AC: My phone and coffee
C: Favorite holiday and why?
AC: Christmas because the whole family gets together to celebrate. We're usually about 50 people for Christmas dinner.
C: Instagram or Facebook?
AC: Facebook
C: Favorite season?
AC: Summer
C: Favorite curse word?
AC: Sh*t
C: Tattoos?
AC: No
C: Least favorite food?
AC: Chicken
C: Least favorite color?
AC: Brown