Polly Wales
October 18, 2016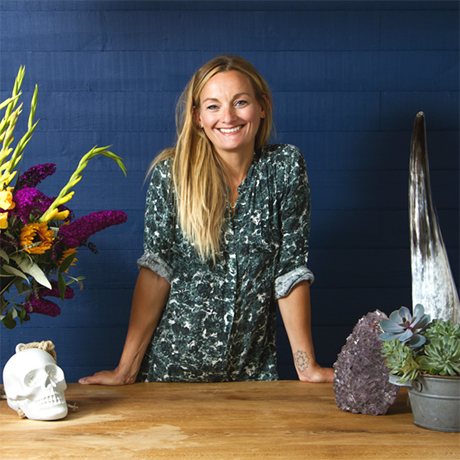 Coffee, colors, banana and miso on toast… just a few things Miss Polly Wales loves. The Great Britain native grew up creating all types of art but found her calling as a jeweler while working at a gallery. When she's not at the bench, she can be found swimming, reading, or spending time with her two daughters.COUTURE: Number of years in business?
Polly Wales: I'm never really sure as I just sort of grew from a very craftsmanship style of working into a business, but I call it five. I was making jewellery for five years prior to that.
C: What was your first job, either in or outside of the jewelry industry?
PW: My first job in jewellery, was whilst I was studying at The Royal College of Art in London, which is a totally post grad art school, it's a very wonderful place and I had a job at Electrum Gallery. Electrum was opened in the 1960's and showcased all the big names from the European Art Jewellery scene like Karl Fritch and David Watkins, it was a pretty unique place. Sadly it's closed now.
C: What led you to jewelry design?
PW: Jewellery was the perfect mix for me, it married a refined craftsmanship with a panoply of processes, techniques and materials. It has such a unique diversity in that way that few other art or craft forms have. I felt it would give me the creative space I was looking for.
C: If you weren't a jewelry designer, what would your occupation be?
PW: I'm a fantasy florist, or perfumier.
C: Favorite pastime?
PW: Beyond hanging out with my two daughters, swimming and reading both make me happy.
C: If you could go back to your past self and give yourself one piece of advice, what would it be?
PW: My 11 year old self was right about most things, I didn't need to teach myself everything I already knew the hard way.
C: What gets your creative juices flowing?
PW: Usually something we have just finished in the workshop will inspire new thoughts and looking at beautiful colours and stones. I love textiles, antique embroidery, rugs and patchworks from all around the world, I find the beautiful reappropriation and how different colours are used in different continents so inspiring. I think that joy and passion that you see in hand made pieces like elicits such a direct response in people and I strive to make pieces that contain that much passion and joy.
C: At what time of day are you most creative?
PW: Whatever time it is that I've fought my way through the paperwork to the bench
C: Coffee or Tea?
PW: Coffee
C: Savory or Sweet?
PW: Both together. Ever had banana and miso on toast? It's really good!
C: Favorite non-jewelry accessory
PW: Shoes
C: I won't leave home without _______________
PW: Everything. I am always leaving something behind
C: Favorite holiday and why?
PW: I spent a lot of time in Asia growing up and travelled around there in my early twenties and I loved all the tribe women of China and Thailand and the amazing jungles. I'd love to go back and travel more through Asia and visit Japan.
C: Instagram or Facebook?
PW: Instagram
C: Favorite season?
PW: Early autumn. I'm English and our summers are beautiful when they happen, but they are a false promise filled will rain. When autumn finally comes you can stop pretending summer is going to come and relax into the beautiful long sun and turning leaves. The colours are so beautiful and the first frosty mornings with the soft morning mists are very romantic.
C: Favorite curse word?
PW: All of them
C: Tattoos?
PW: Yup
C: Least favorite food?
PW: Cheesy Doritos
C: Least favorite color?
PW: Purple