Sarah Hill's True Calling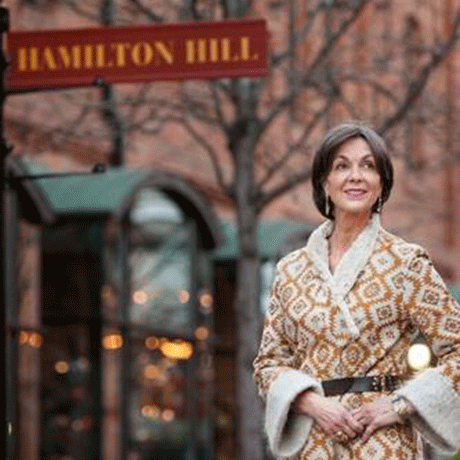 The passions of Hamilton Hill Jewelry store owner, Sarah Hill, run deep. With a love of music, books, décor, clothes and art, Sarah knows her affinity for gems and jewelry is her true calling, and she's delighted to share that love with the loyal clientele in her beloved Durham, North Carolina.
COUTURE: Number of years in business?
Sarah Hill: 18
C: Number of employees?
SH: 5-6 ranging from full-time, to part-time, to contractors.
C: How did you get into jewelry and watch retail?
SH: Michael Hamilton, who eventually became my business partner, met a gemologist one day and, thinking that gems and jewelry were up my alley, he instinctively thought of me. I gave it some thought before deciding to get my graduate gemology certificate from Gemological Institute of America (GIA). I had been searching for my calling and I had enough sense to recognize it when it appeared. Thanks Michael!
C: What's the favorite part of your day?
SH: Early morning when my brain is sharp! Feeling bright and being productive is a great feeling.
C: What's the least favorite part of your day?
SH: Evening, commonly known as the "second shift," because I am tired like never before.
C: If a theme song played every time you walked into a room, what would it be?
SH: I'm always singing but a theme song? Maybe something with no lyrics would be best, something exploratory and up for interpretation.
C: Instagram or Facebook?
SH: I'm too conflicted about social media to answer.
C: Favorite season?
SH: Autumn. I am using its fancy name to make it sound even sweeter. It is so bitter-sweet, so intense!
C: Favorite curse word?
SH: With this question I ask myself: is it time to quit this bad habit once and for all? "Firetruck" never seems as good … why is that?
C: What's your mantra for dealing with a difficult client?
SH: Another growth experience – oy.
C: If you had a tattoo, what would it be and where?
SH: I don't, I won't.
C: I won't leave home without ________________
SH: Jewelry, of course.
C: If you could own another type of store, what would it be and where?
SH: Despite my love for music, books, décor, clothes, art …I don't think I could do any of them. Although, if I had to choose, it would be between an art gallery or a record store, right here in Durham, NC.
C: Favorite vacation spot?
SH: St. Barth's is way up there as are beautiful swimming and hiking spots. It used to be cities that drew me in, now it's natural wonders that I crave.
C: Least favorite food?
SH: I am not a picky eater, but I am 97.2% vegetarian, so I have a hard time with food that comes from animals.
C: Coffee or Tea?
SH: Usually, two, big cup of coffee every morning, and then I'm through with caffeine for the day.
C: What's your exercise routine?
SH: Routinely standing up all day (mostly by choice), walking to and from work, walking miles around the store every day. And an exercise class – calisthenics of a sort – once or twice a week.
C: What's the first piece of jewelry you fell in love with?
SH: A simple, 22 karat gold, blue and green Tourmaline cabochon ring…with lots of other competition.
C: How do you motivate your staff?
SH: By pushing them out of the nest, letting them fly solo as early and often as possible. And trying to convey my deep appreciation and respect for them, both when they succeed and when they don't.
C: What's on your desk?
SH: Too many things that have crossed it more than once before.
C: What's the most difficult gemstone you have to work with/hardest to explain to customers?
SH: I would say, diamonds. If you think about all the variables: color, clarity, cut, opaque, raw, fancy colors, slices, beads, ratios, bowties, lab reports, prices, origin and more … it's a lot. Whew!