Southern Charm
July 18, 2018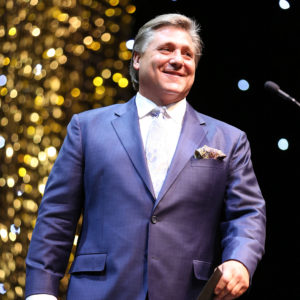 Kimball's Jewelers provides the Knoxville, TN area with hometown Southern hospitality, exceptional customer service and exquisite jewelry and timepieces. The store's CEO, Danny Overbey, sees the magic in his every day life, and his commitment to his team and their success is what creates an incredible in-store experience for his clients.
COUTURE: Number of years in business?
Danny Overbey: Hope Brothers was established in 1868 and closed briefly during the Great Depression. The store re-opened in 1933 under the new brand Kimball's Jewelers. We are celebrating our 85th year in business as Kimball's Jewelers.
C: Number of employees?
DO: We currently have 16 full-time employees and several part-time employees.
C: How did you get into jewelry and watch retail?
DO: My father was in the business and graciously created this opportunity for me. I feel blessed to be able to follow in his footsteps.
C: What's the favorite part of your day?
DO: It changes every day because it's based around what is happening with my staff and my clients. There is something magical that happens daily and that's always the best part of my day.
C: What's the least favorite part of your day?
DO: The process of putting the jewelry out for display and up into the vaults every day to deter theft.
C: If a theme song played every time you walk into a room, what would it be?
DO: Welcome to the Jungle.
C: Instagram or Facebook?
DO: Facebook because I'm old, but Instagram allows me to keep up with my younger friends.
C: Favorite season?
DO: Football season.
C: Favorite curse word?
DO: Shit
C: What's your mantra for dealing with a difficult client?
DO: "Just smile and wave, boys."
C: If you had a tattoo, what would it be and where?
DO: I would never have one due to the fact that I was never in the Special Forces.
C: I won't leave home without
DO: A gun, my badge and a couple of bucks.
C: If you could own another type of store, what would it be and where?
DO: A big-game fishing charter boat, so I could chase fish in any cool place I wanted to go.
C: Favorite vacation spot?
DO: Anywhere with clear blue water and the fish are biting.
C: Least favorite food?
DO: Tomatoes.
C: Coffee or Tea?
DO: Tea.
C: What's your exercise routine?
DO: Not frequent enough.
C: What's the first piece of jewelry you fell in love with?
DO: My mother's Oscar Heyman custom-made ring.
C: How do you motivate your staff?
DO: With a whip. But seriously, with trust, respect and integration with leadership for an unbeatable team.
C: What's on your desk?
DO: Guns, knives, handcuffs, clocks, piggy banks, photos, my watch collection, and a ton of paperwork.
C: What's the most difficult gemstone you have to work with/hardest to explain to customers?
DO: Collector-grade colored stones. Most clients don't understand the rarity, true beauty and price.