Spallanzani Jewels
August 15, 2016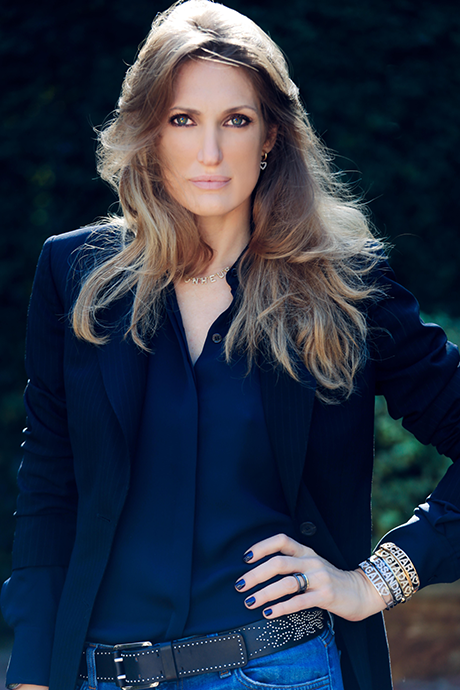 Founded in 1880, Spallanzani Jewels has been passed through the Spallanzani family for several generations. Fifth generation designer, Gaia Spallanzani, says jewelry is part of her DNA! When Gaia is not hard at work developing Spallanzani internationally, she spends her time with her family- cooking, operas, and museums are just a few of her favorite family activities.
COUTURE: Number of years in business?
Gaia Spallanzani: Spallanzani is an Italian jewelry brand that has existed since 1880…I'm the 5th generation. I took back the brand 2 years ago and decided to develop it internationally. My grandfather created the first named bracelet in the late 60's in a period where fine jewelry was more floral and animals. It was the Pop era and he created a "Pop" fine jewelry bracelet for Saint Valentine's Day as a gift for my grandmother with the engraving, "you are everything that I love" and it became a must have in Italy.
C: What was your first job, either in or outside of the jewelry industry?
GS: I spent 20 years in Paris, my first job was in a PR agency, and then I worked for Vogue Italy…after that I started working in the fashion industry for different brands (Dior, Prada, Saint Laurent, Chloe…).
C: What led you to jewelry design?
GS: Jewelry is part of my DNA, I grew up watching my grandmother and my mother design models, my grandfather took me to the manufacturers when they were to set a stone or watch the process of making a jewelry piece from a design… so it was obvious for me and I started drawing my first pieces when I was 18… I earned my Gemologist diploma and followed Christie's classes for Jewelry design. Tiffany, Van Cleef, Cartier, Bulgari inspired me a lot for the mix of materials they used and playful jewelry they made. I also have more than 100 years of designs of our jewelry that inspires our collections.
C: If you weren't a jewelry designer, what would your occupation be?
GS: It's difficult to say but I love art and decoration so I guess I would be an interior designer 😉
C: Favorite pastime?
GS: Spending time with my family and my friends… I love cooking with my kids (this must be my "mamma" Italian side) and we always have friends passing by our home. I also take my girls to ballets and operas as we really love that, and I go to museums with my son.
C: If you could go back to your past self and give yourself one piece of advice, what would it be?
GS: I would do exactly everything I have done, I have no regrets, even if I did something wrong I have always learned from my mistakes so no particular advice other than "living every day of your life like it is your last"
C: If a theme song played every time you walked into a room, what would it be?
GS: I love music! I think this summer my song would be "Can't Stop the Feeling" by Justin Timberlake.
C: What gets your creative juices flowing?
GS: Everything…I try to keep our DNA looking at our historical designs, but anything could inspire me, a shell on the beach, a detail in a paint, a color…
C: At what time of day are you most creative?
GS: I mostly I wake up in the middle of the night with an idea and I have to write in the "office chat" and in the morning we work on it…
C: Coffee or Tea?
GS: TEA TEA TEA! I could open a tea store 😀 which is very unusual for an Italian girl
C: Savory or Sweet?
GS: Both … and I like to mix them together also…
C: Favorite non-jewelry accessory?
GS: Shoes and bags
C: I won't leave home without_____
GS: My "only you" bracelets with my kids names
C: Favorite holiday and why?
GS: On a boat, I love to wake up in the middle of the sea and swim in different places or in the mountains, summer and winter there is always something to do… you never get bored
C: Instagram or Facebook?
GS: It's complicated…I'm pretty much a reserved person, so I use them mostly for working reasons
C: Favorite season?
GS: Spring
C: Favorite curse word?
GS: F*ck
C: Tattoos?
GS: No… I love tattoos but on other people…
C: Least favorite food?
GS: Sugar beet
C: Least favorite color?
GS: Salmon