Sydney Evan
May 18, 2016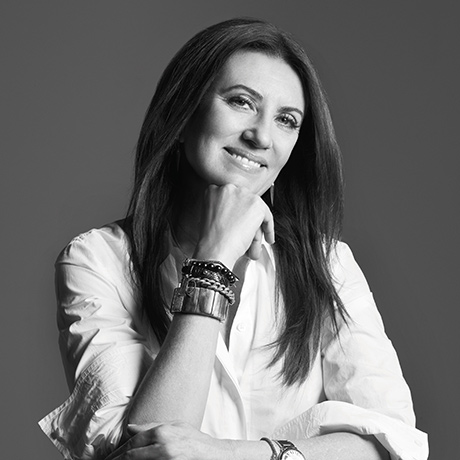 This year, Rosanne Karmes celebrates her 15th anniversary of her hugely successful jewelry line, Sydney Evan- named after her son and daughter. It has been quite the adventure for Rosanne, starting at a jewelry store in LA, moving to a manufacturer's showroom, and finally ending up in her dream job, owning and designing for her brand.
COUTURE: Number of years in business?
Rosanne Karmes: 15
C: Number of employees?
RK: 40+
C: How did you get into jewelry and watch retail?
RK: I was a manufacturer's representative for accessories lines in the California Mart for over 15 years. In the showroom we sold jewelry, belts, bags and more.  After making several designers very successful, I decided there was a big hole in the market place for fashion fine jewelry lines. I knew how to design and make jewelry because my first job was with Marvel Jewelry Company in Los Angeles where I acquired on the job experience from some of the finest jewelry makers from Europe. I decided to design a line of fashion fine jewelry that I first sold through my showroom. The demand for the jewelry I designed exceeded my wildest expectations. The next season the jewelry sold even better than the first season. At that point I realized with my knowledge and experience of what sells along with my passion for creating beautiful jewelry, I started to devote more and more to the Sydney Evan line, which I named after my children.
C: What's the favorite part of your day?
RK: The morning.  First thing I do is make myself the best cappuccino and sit down and answer all my emails while nobody is home.
C: What's the least favorite part of your day?
RK: Between 3-4 pm when I need another cappuccino because I'm tired.
C: If a theme song played every time you walk into a room, what would it be?
RK: The theme from Mission Impossible. It's also my ring tone!
C: Instagram or Facebook?
RK: Both
C: Favorite season?
RK: Spring
C: Favorite curse word?
RK: Merde!
C: What's your mantra for dealing with a difficult client?
RK: I just try and listen, remain calm and work to resolve it.  Sometimes it's just like being a therapist.
C: If you had a tattoo, what would it be and where?
RK: If I had one, it would be a tiny script 'love' on my inner wrist.
C: I won't leave home without _________
RK: My red beaded bracelet with my diamond Hamsa and my phone.
C: Favorite vacation spot?
RK: South of France
C: Least favorite food?
RK: Anything that tastes like black licorice.
C: Coffee or Tea?
RK: Cappuccinos
C: What's your exercise routine?
RK: Dance class once a week. Gym work out 3 times a week
C: What's the first piece of jewelry you fell in love with?
RK: My mother's engagement ring
C: What's on your desk?
RK: Jewelry pliers, loupe, diamonds, tweezers, giant sketch pad, computer, phone, a lucky cat statue that an employee gave me 10 years ago and framed pictures of my family and my dog.
C: What's the most difficult gemstone you have to work with/hardest to explain to customers?
RK: My customers often ask me to replace pave diamonds with colored stones in the tiniest of sizes. It's almost impossible to find rubies, emerald and sapphires in that small a size so we have to meet in the middle.