Time Travel to Planet Venyx
March 15, 2018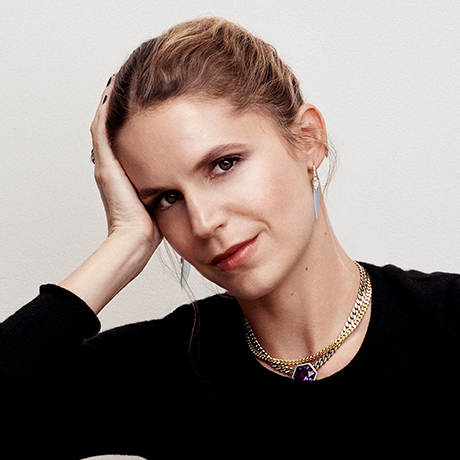 With a "retro-futuristic nature," Venyx crafts pieces that redefine the old by capturing nostalgia of the past, while also embodying inspiration of the future. Each piece tells a story of the link between eras and serves as a form of time travel. The term "Venyx" was conceived as a planet, guiding one to explore secret galaxies of one's own world. Many pieces have various elements of nature and space. We gained greater insight into the world of Venyx through our interview with the designer of Venyx, Eugenie Niarchos. 
COUTURE: Number of years in business?
EUGENIE NIARCHOS: 5
C: What led you to jewelry design?
EN: The need to create pieces to a tell a story
C: If you weren't a jewelry designer, what would your occupation be?
EN: A story teller, though as a child I've always dreamt of being an astronaut
C: Favorite pastime?
EN: Dreaming and sky gazing
C: If you could go back to your past self and give yourself one piece of advice, what would it be?
EN: Give more time to myself
C: If a theme song played every time you walked into a room, what would it be?
EN: "Underwater Love" by Smoke City
C: What gets your creative juices flowing?
EN: Antiquities, music and trips
C: At what time of day are you most creative?
EN: Between 12am and 6 am while I dream or while I can't sleep and brainstorm
C: Coffee or Tea?
EN: Coffee and Chai tea mixed together with Almond milk
C: Savory or Sweet?
EN: Sweet and salty together!
C: Favorite non-jewelry accessory…
EN: My cozy hand woven white scarf from Himalayan Weavers
C: I won't leave home without…
EN: My phone and my phone charger
C: Favorite holiday and why?
EN: Summer by the sea in Greece, which regenerates me, and spring time in India, where I am most inspired
C: Instagram or Facebook?
EN: Instagram
C: Favorite season?
EN: Summer forever and ever
C: Favorite curse word?
EN: Cursing is not my thing
C: Tattoos?
EN: Yes 3
C: Least favorite food?
EN: This French dish called Cordon Bleu
C: Least favorite color?
EN: Brown